"If we want to say which brands are successful, it depends on the quality of the brand, the specific products of that brand, the availability of the brand and the conditions of our people"
"Due to the economic contraction, important brands have concluded that if they want to have a stable presence and serve the medical community, they must reduce costs. "
"Wound healing is like an ocean. The more you get involved, the more you need to study "
"We should look at the wound as a WHOLE, not a HOLE. "
Panthea Sokhanvar received her bachelor of science in nursing from Tehran University of Medical Sciences in 2001, her master of science in English literature in 2009 from Tehran Azad University, and her master of science in health education in 2019 from Iran University of Medical Sciences. During this time, she has worked with Arkan Darman (Smith+Nephew) and Iran Pharmis (Hartmann) as a consultant. Shokhanvar, as one of the most experienced wound experts in the country, has been present at many congresses and seminars as a speaker and also advises some wound clinics.
When we talk to Panthea Sokhanvar, we find her words clear, scientific, and well-documented. Her mastery of wound management, along with her education in health education, has made it very useful to talk to her.
First of all, please comment on the situation of wound management in Iran.
About 20 years ago, modern wound dressings entered Iran. Marketing programs for these wound dressings have been able to dispel some thoughts about classic gauze and cotton, however, medical devices companies and therapists still face many challenges. Hospital staff looked at it as a luxury product and several nurses used these dressings only to reduce their workload and the number of changing of wound dressings. Over time, the topics of wound dressings were added to some nursing books and various brands entered Iran, 7 or 8 of these brands are significant and their history goes back to many years ago. From 2012 to 2014, I had the most teaching activities. We went all over Iran and even to areas that may be most teachers are not interested in teaching in there because the population of those areas is very small. We believed that not only the big cities should be taken into account, but also the small cities.
How do you assess the potential of the Iranian wound market?
At present, we are facing several foreign and domestic companies that have to meet the needs of the market, medical staff and patients. They need to examine how much potential market of Iran has. Of course, this estimate depends on the estimation of the number of wounds in Iran. For example, we need to estimate how many diabetic foot ulcers we have, that, of course, this is not easy. This statistic has been moving towards accuracy for several years. With the efforts of the Ministry of Health and the Endocrinology and Metabolism Research Institute of Tehran University of Medical Sciences, the statistical files have been prepared. Of course, we know that we are one of the countries that have a lot of unregistered people with diabetes.
It should be noted that despite all the challenges, there is still space for different brands. If we want to say which brands are successful, it depends on the quality of the brand, the specific products of that brand, the availability of the brand and the conditions of our people. On the other hand, we need to check how many and what kind of wounds we have in our hospitals. We don't have accurate statistics and we can't measure market size, and what is reported is a generalization of a small community.
There is already a lot of pressure on medical device importing companies, some of which are inevitable, but the challenges for domestic manufacturers have decreased. Although we are proud that Iranian companies are once again portraying the efforts of Iranian workers, our wound dressing manufacturers have not yet reached the level of technology that can produce different types of dressings with ideal and competitive quality.
Importing medical device companies hope that some barriers and bureaucracy will be eased for them. But in the current situation, the best way we can define it is that we are in an economic contraction, and let's overcome this economic contraction with a great approach and effort. This will not be possible unless we all, including the Ministry of Health, the Office of Medical Equipment, medical device companies and medical staff, try for greater success, and we hope to achieve this.
According to you, one of the serious issues is that we not only have no official statistics, but we also have no definition of who the therapist is. What is your opinion about who the therapists are in Iran and how many of them there are?
We can't provide exact statistics about how many therapists we have. There are several problems in this area. First, some people have worked in medical centers or learned the tips experimentally at the clinics. Their experience is respectable and their efforts are commendable but they must obtain the full qualification in this field from the competent authorities. The second problem is that anyone who obtains his or her degree from one of the competent authorities, will immediately treat the wound and introduce himself or herself as a wound therapist. Worst of all, they think about making money from the beginning. We need to see the experience, the degree of education, and the passion to learn together in one person to call him a wound therapist.
Indicators that are comprehensive and based on which we can call a person a therapist, has not yet become a written law. But according to what is emphasized in developed countries, the person should be in the field of treatment and preferably be a nurse or a doctor. Of course, this also includes midwives if they have a bachelor's degree or higher in this field. We also have some practical nurses who have participated in so many different classes and documented so much that their work is worth the same as nurses. In general, the person should know the anatomy, physiology, histology, and factors that affect wound healing, as well as the basic concepts of the wound. Of course, just studying in this field does not turn a person into a therapist. Just as a graduate physician must earn points each year and update himself or herself, the therapist is expected to take courses each year or have a scientific innovation of his or her own.
We need to keep in mind that wound healing is a multifaceted approach, which means that wherever I want to heal the wound, I must consider the advice of another doctor and preferably, this doctor should also have an education degree related to the wound. We cannot tell whether a wound therapist is a doctor or a nurse. We all work with a specific approach as a team to heal the wound.
Sometimes some people do not complete these courses and unfortunately, they also do wound healing. Those who are not even in the field of treatment and they are just an engineer in a medical equipment company and are going through these courses are doing wound healing. What do you think about these people?
Unfortunately, in my own 10 years of experience, I have seen that the service personnel of a hospital not only heal wounds but also connect the negative pressure device. Another problem is that some friends that are doctors, do not see wound healing as a discipline. Participating in a class is considered to be knowing all about the wounds and they are very assertive in this area. I feel that wound healing is like an ocean that the more you get involved, the more you need to study. We should look at the wound as a WHOLE, not as a HOLE.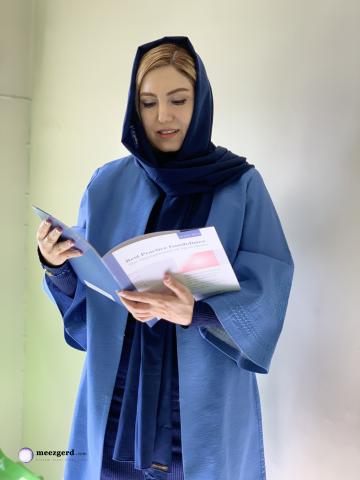 As someone who has been in several companies and worked with different brands, what do you think is the reason for the decrease in the presence of global wound brands in the Iranian market?
Due to the economic contraction, important brands have concluded that if they want to have a stable presence and serve the medical community, they must reduce costs. These brands are on the market and still working, but perhaps their presence in medical centers and some hospitals have decreased.
I asked this because, at Meezerd, the boundary between active and inactive companies and brands in the Iranian market is their exclusive agency. Many companies come to Meezerd but our research shows that they are not an exclusive agent of the brand. How do you evaluate the performance of foreign brands and Iranian companies and how do you predict the future according to domestic products? Do the products available in Iran fully meet the needs of a wound therapist?
You asked a difficult question because companies face many challenges. Fortunately, many of the world's Important brands are in Iran. But now medical device companies are not in a position to say with certainty that we want to allocate some market share to ourselves. They are just more interested in saying that we have come to play a big role in meeting the needs of patients, and this is due to the instability of the economy in the current situation.
You say that brands in Iran do not want or can not want more market share?
They want to and maybe they can, but that requires a series of stable items, despite the efforts of the Cabinet and the Chamber of Commerce, we are facing instability and this is not only for Iran. There is also an economic contraction in Europe, and they also use the word economic contraction, but the situation in our country is a little different. Sometimes the situation is unpredictable and I firmly believe that the business benefits of wound dressings are really low. The only thing I can say is that we are in a temporary period and we hope that this period will be short and that medical device companies will be able to play their role well in this economic contraction.
It seems that despite the growth of Iranian brands, the first choice of many therapists is still foreign brands. What is the reason?
The problem is that in Iran when we want to start something, we don't consider the aspects that are needed and effective in the future. Some manufacturing companies start producing wound dressings without analyzing the needs of the wound market, and despite the lack of raw materials, they load several items together as a wound dressing, and then they see results in the laboratory. Domestic medical device companies are updating their products over time. But in foreign companies, from the beginning, a person who specializes in medical nanotechnology, along with a doctor and a nurse, is responsible for monitoring during the production process. I mean, from the beginning of production, there must be a therapist in the production process.
In recent years, wound clinics have been established in some hospitals. Private wound clinics in Iran have also increased and are still increasing. What do you think about wound clinics in Iran?
A wound clinic has a technical officer who is a doctor and a nurse who has a degree related to the wound. Clinics are a great place for scientific research on wounds. Most scientists do their research in wound clinics.
In the end, thank you for interviewing with Meezgerd and expressing your views.
Thank you